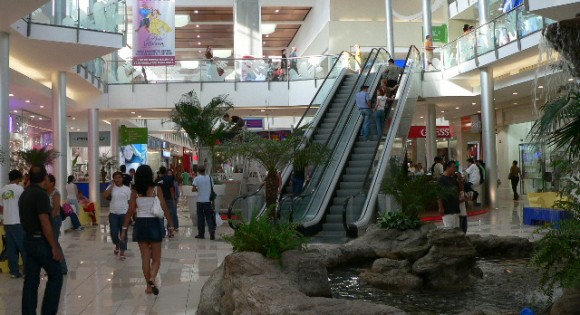 Panama is a paradise for shoppers and it shows as many malls are always packed and thats not only during holiday season, there are even trips organized from many nearby countries especially for visiting the shopping malls. There are great stores along Via España and Caledonia in downtown, but the easiest way for shoppers I would say are the great malls in Panama, some of the main malls that need to be mentioned are the following:
Albrook Mall
This is a climate controled indoor mall that is located as the name says in Albrook and can be reached by many bus lines as it is located right next to the Albrook Bus terminal. This I would say is the ultimate paradise for shopaholics and features probably the most stores of any mall in panama and caters from real bargains to the international brand stores to anybody. It also features a variety of movie theater and a big food court. Opening at 10AM (Sundays 10:30) and open until 8PM.
Multiplaza Pacific
This is probably the most exclusive (and expensive) mall featuring many international boutique stores where almost any high cllass fashion desire can be satisfied. Its is located i Punta Pacifica where the old Paitilla airport was located before. Opening at 10AM (Sudays 11AM) and open until 8PM.
Metro Mall
Located along the road to the Tocumen International Airport (about 20km from the city center) is another new and huge mall that features similar stores like the ones found in Albrook. This mall like most others feature also a variety of movie theater and a big food court. Opening at 10AM until 8PM.
Los Pueblos
This is an open mall no climate control until you enter one of the great many shops probably a good place for bargain hunters its located near the Metro Mall on the road to the Tocumen International Airport. Opening at 10AM until 10PM. Some stores may close earlier do.
Multicentro
Located besides the Hard Rock Hotel and the Radisson Decapolis Hotel at Avenida Balboa next to Punta Paitilla along the Cinta costera, this mall features also a casino, a 9-screen movie theater, a nightclub, and many restaurants.  Opening at 10AM until 9PM.
Westland Mall
There is another new and big mall located outside the city in Arraijan along the La Chorrera Highway. This mall is practical if you come from countryside and dont want to drive all the way to the city avoiding the constant traffic jams. This is also an inside climate controlled mall featuring many stores, a food court, cinemas and a super market. Opening 11AM until 8PM.
Please leave a comment below and tell us what your shopping experience in Panama has been! Thanks in advance for sharing your thoughts!
Please bookmark us now press ctrl+d and visit again soon for more fascinating travel destinations in Panama!