Beaches in Southern Veraguas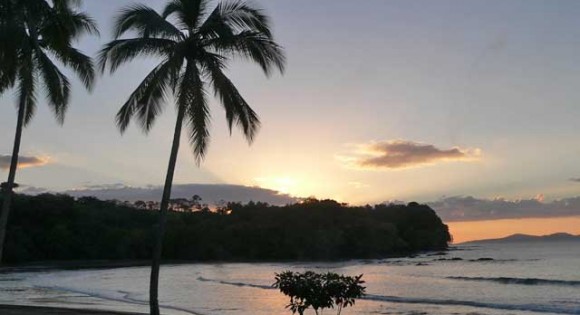 The area of southern Veraguas features some real jewels of beaches as well as some world class diving spots around the Coiba Island that was declared by Unesco a "World Heritage Site". Also famous for surfing is the area of Santa Catalina.
Santa Catalina
The small village of Santa Catalina can be reached by car from Panama drive to Santiago along the Pan American Highway and there get in direction to Sona, in Sona turn direction to the coast and you will reach Santa Catalina. A few small hostals are available here make sure to have your reservations before hand. Some beautiful black sand beaches can be found here are a few beach side restaurants offer sea food and drinks. Surfing is the big thing in Santa Catalina and an international surfers competition is held here. This is also where you can start diving trips and where you find boats to Coiba Island.
Pixvae
Not far from Santa Catalina you can find Pixvae Beach, popular for locals from Sora who relax here over the weekend, the beach features some small restaurants that offer fish and drinks. Also from here some boats can be hired to Coiba Island.
Coiba Island
With an area of 50.3 square miles, Coiba is the largest island in Central America, off the Pacific coast of the Panamanian province of Veraguas. Coiba National Park (Nacional Parque Coiba) is a group of 38 islands including Coiba Island Iguana on Isla Coiba (Isla Coiba) and the waters surrounding them and covers 430,825 acres. Unesco declared the entire Coiba National Park a "World Heritage Site".
To visit Coiba best check with a local tavel agency, there are some boats to hire in Santa Catalina for the tour but remember it needs to be well organized as you need a permit from ANAM and they are also the only ones that have facilities on the island where you can stay overnight. There are no stores on the island so all food and beverage needs to be taken from the main land and also all trash needs to be taken back.
The most beautiful and popular beach there is on Isla Granito de Oro (see attached image), this is also and excellent spot for scuba diving. But all along the Island you find beaches that invite for a swim, also on Isla Canales (half way from the main land to the ranger station on Coiba) you find some beautiful spots. Your tour guide will know the spots and all you need to do is to relax and enjoy.
Isla Cebaco
This is a lesser known island in the Gulf of Montijo, best reached from Torio with some local fisherman that can bring you there or a bit farther away from the port of Montijo. The island offer some heavy surf on one side and some more quiet beaches on other spots. Most spots are deserted and few people ever get here, best bring your own supplies along.
Torio & Mariato
Its proximity to Cerro Hoya Park, Coiba and at only 15 minutes of Cebaco Island and an hour from the city of Santiago makes it into the ideal tourist spot. Not very well know the area yet, but never the less some beautiful beaches can be found here, not yet spoiled by mass tourism. The area is also known for great fishing.
Please bookmark us now press ctrl+d and visit again soon for more fascinating travel destinations in Panama!