Rainforest Discovery Center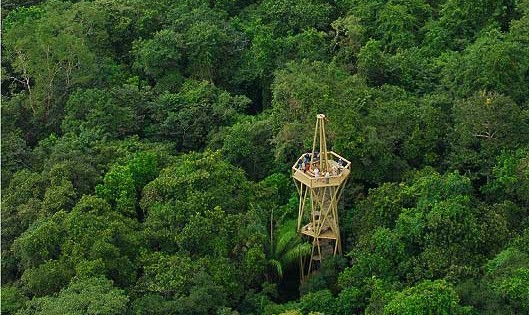 From the The Panama Rainforest Discovery Center brochure: Visitor Center: 140 square meters of open structure with terrace, 2 bathrooms and a small gift shop. There is parking for 8 cars and car access by 600 meters of dirt road from Pipeline Road. Hiking trails extend from the center to the forest. The center is energy self-sufficient with solar panels and a rain water collection system from the roof for bathrooms. 70% of construction materials come from old houses in the Canal area. The gift shop offers bottled water, sodas, snacks and souvenirs for sale.
Tower: 100 feet observation tower with a 200 meter walkway from the visitor center. Spiral stairs and 4 rest platforms every 25 feet. This painted steel tower has been specially designed by the Panamanian architect Patrick Dillon and was constructed entirely by hand.

Forest trails: There is a 1.1 kilometer circuit of forest trails. These trails are from mild to a moderate difficulty level, made of gravel and 1.2 meter wide. There are 2 rest areas along the trails, one small wood deck on the Calamito Lake shore for aquatic wildlife observation, and another wood deck in the forest with benches.
The Panama Rainforest Discovery Center is located 1.6 km from the Pipeline Road entrance. After arriving at Gamboa town at the end of Gaillard Highway, drive 3 more km following the signs for Panama Rainforest Discovery Center. The Panama Rainforest Discovery Center is open daily from 6 a.m. to 4 p.m. except Christmas and New Year days. For more info and prices see the The Panama Rainforest Discovery Center website here.
Please bookmark us now press ctrl+d and visit again soon for more fascinating travel destinations in Panama!