Taboga and Contadora Island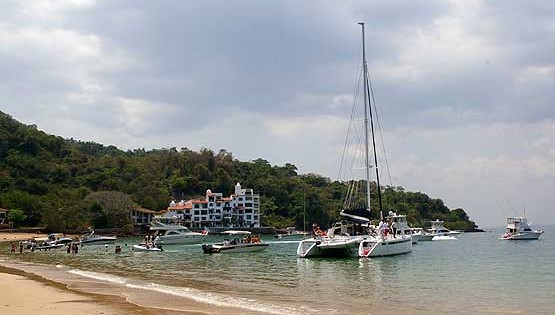 In the gulf of  Panama we find some most beautiful islands, first example is Taboda right in front of Panama City and in the Perl Island another excellent example Isla Contadora. There are more island that can be visited around the area like Isla Saboga, Tobagillo, Isla del Rey, only the Pearl Islands are a group of 200 or more islands and islets (many tiny and uninhabited) and we invite you to explore their beauty as well. .
Taboga Island
Taboga Island, Panama, is an island in the Gulf of Panama. It is a tourist destination, only 20 kilometers from Panama City. Known as the island of flowers, it is the site of, Iglesia San Pedro, claimed to be the second oldest church in the hemisphere. Taboga has been famous for its beautiful beaches with cool, crystal clear waters and soft sands. There is a ferry service to Taboga leaving from the Amador Causeway.
Contadora Island
The attached image is by Katarzyna Sierocińska (Personal archive) [FAL], via Wikimedia Commons
In the Archipelago of Las Perlas we find the Contadora Island, now this is a real Perl and we recommend a visit there. Some Hotels and Restaurants are available, just make reservations before hand as the facilities are limited. The Island can be reached by a ferry service from the Amador Cause Way or by Airplaine from the Albrook National Airport. The Island features some beautiful beaches and even whale watching from there is possible in the right season.
Please bookmark us now press ctrl+d and visit again soon for more fascinating travel destinations in Panama!