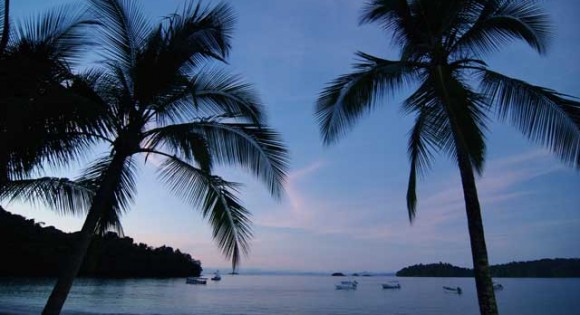 Coiba separated from continental Panama about 12,000 to 18,000 years ago when sea levels rose. Coiba was home to the Coiba Cacique Indians until about 1560, when they were conquered by the Spanish and forced into slavery. A penal colony was built on the island in 1919. After the prison was closed down in 2004, its pristine condition made it ideal as a reserve.
With an area of 50.3 square miles, Coiba is the largest island in Central America, off the Pacific coast of the Panamanian province of Veraguas. Coiba National Park (Nacional Parque Coiba) is a group of 38 islands including Coiba Island Iguana on Isla Coiba (Isla Coiba) and the waters surrounding them and covers 430,825 acres. Unesco declared the entire Coiba National Park a "World Heritage Site".
For bird watchers, Coiba offers 97 of the 147 species of birds found in Coiba National Park. Coiba is a refuge for Crested Eagles and Scarlet Macaws, birds who have virtually disappeared from the rest of the Republic of Panama. Coiba also offers 20 endemic birds species including the Coiba spinetail.
For visits to Coiba best see your Panama travel agent for details, these trips have to be carefully planed and reservations have to be made with ANAM in order to get permission to visit the Islands More images from Coiba Island can be seen here.
Please bookmark us now press ctrl+d and visit again soon for more fascinating travel destinations in Panama!